LES MILLS content on myFitApp@home
Over 120 high-quality videos, for all levels and goals, from LES MILLS are available to add into your myFitApp@home shopfronts.
Now, you can offer workouts from BODYATTACK to BODYBALANCE hosted by the world-class instructors from LES MILLS in your app. Members can watch in-app, on their SmartTV or PC, and you can monetise this content by linking it to specific memberships or through in-app purchase.
120+ high-quality workouts for your @home solution
Best user experience
Super easy streaming and silky-smooth navigation, members can easily join a workout with just one click.
Curated by you or by us
If you're short of time, use our curation which we update frequently. Or for maximum flexibility curate your own collections, you choose. 
Select on phone, watch on TV or PC
Members use our fast, slick shopfront to select what they want. Then with one click they can cast to their SmartTV or PC for great video and sound. 
Retain members, get new ones
Use great content to retain current members and acquire new members

—

all managed through seamless integration with your current LMS.
One-click subscriptions with IAP
Use In-app purchase to sign up lower-tier members for digital content. It's easiest for members and great additional revenue for you.
Part of the comprehensive myFitApp@home solution
Members love @home because it's so easy. Seamlessly integrated, no additional logins, no extra links or URLs, it just works, beautifully
Covering all your favourite LES MILLS workouts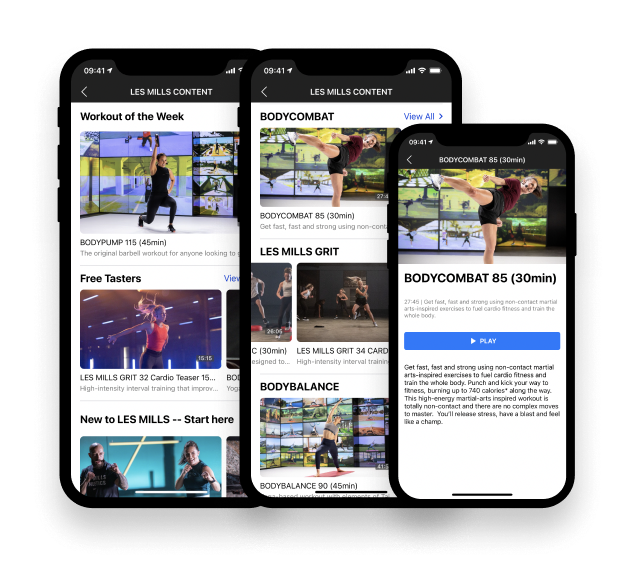 Best user experience
Silky-smooth navigation
Seamlessly integrated into the myFitApp@home solution, LES MILLS Content is super easy for users to navigate. 
One-click play – With just one click, the workout starts instantly. No codes, separate logins, all integrated into your branded app, in your design and without additional apps or external links.
We curate the videos for you

So you can save time
We automatically curate over 120 LES MILLS videos for you, meaning your members always have fresh content without you having to do any work.
Each workout is supported by a detailed description and the collections are constantly changing.
Members have a choice over the exclusive LES MILLS workout categories: BODYPUMP, BODYCOMBAT, BODYATTACK, LES MILLS CORE and BODYBALANCE.
There really is something for everybody!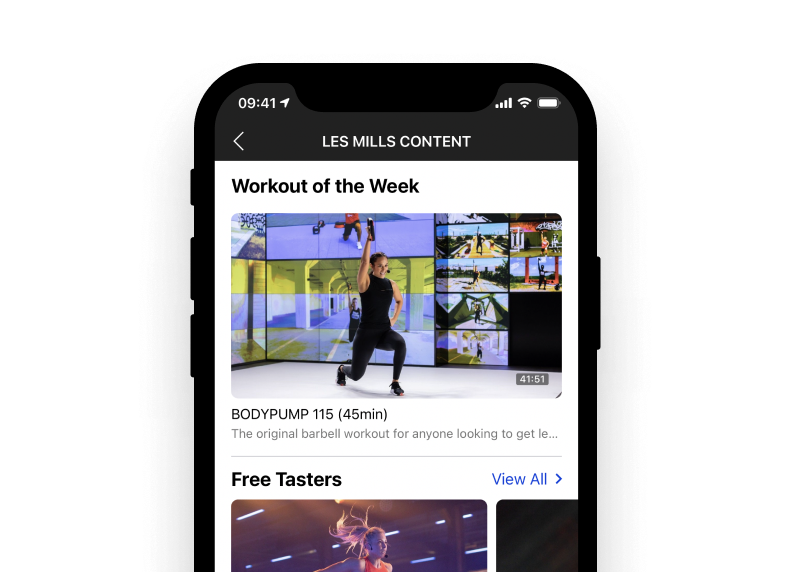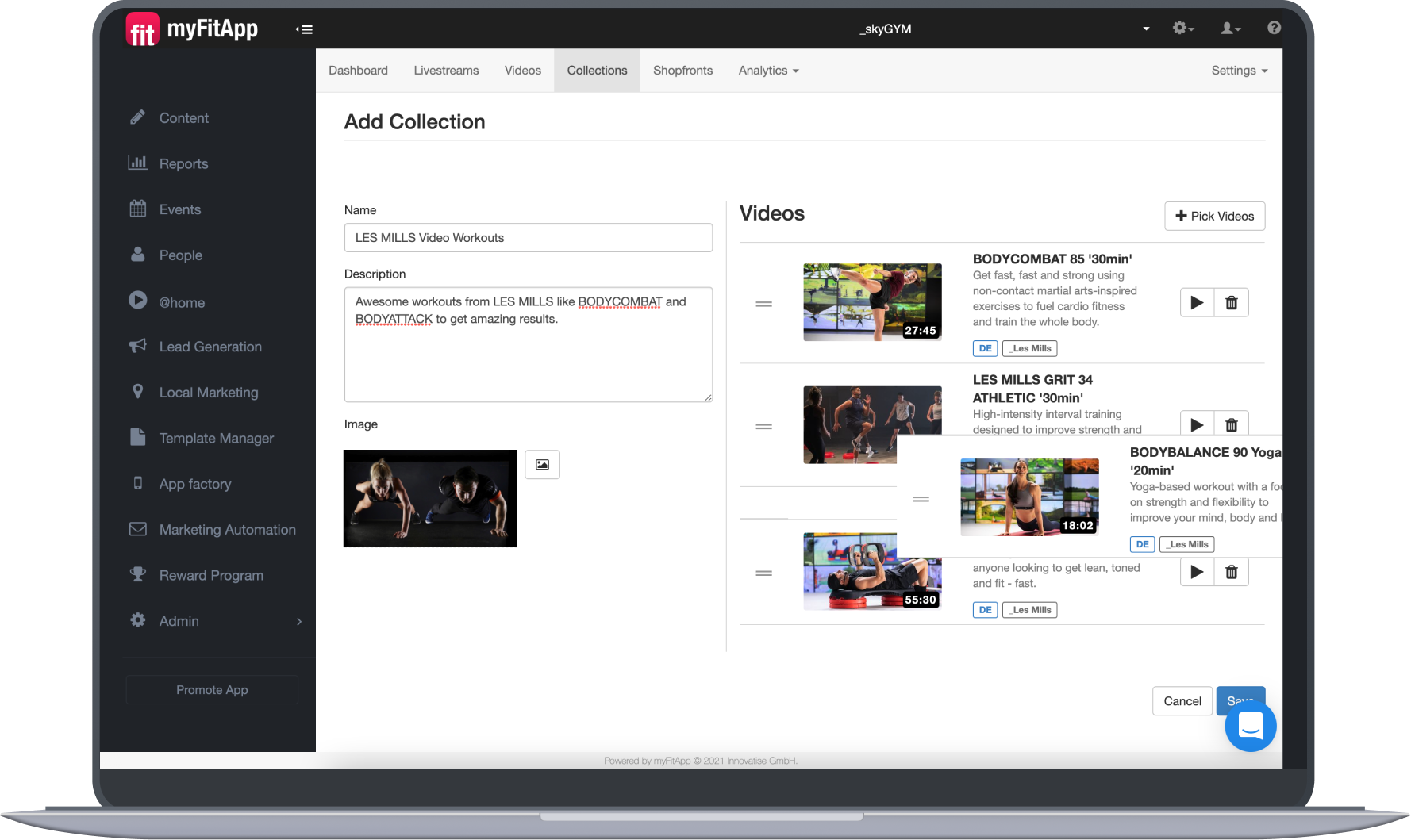 Or you can curate you own collections

Mix and match for your members
Of course, you can also curate your own collections in our super easy cockpit content management system.
Tailor your collections to what your members want. Use the LES MILLS Content to complement your own recordings and live streams and offer your members the ultimate digital fitness content.
Stream onto TV or PC

With Chromecast and Airplay
Members can stream any workout video directly from the app to the largest screen in their home, including their TV or laptop, via Airplay or Chromecast.
All videos are high quality in breathtaking full HD quality and with crystal clear sound for a perfectly smooth workout experience.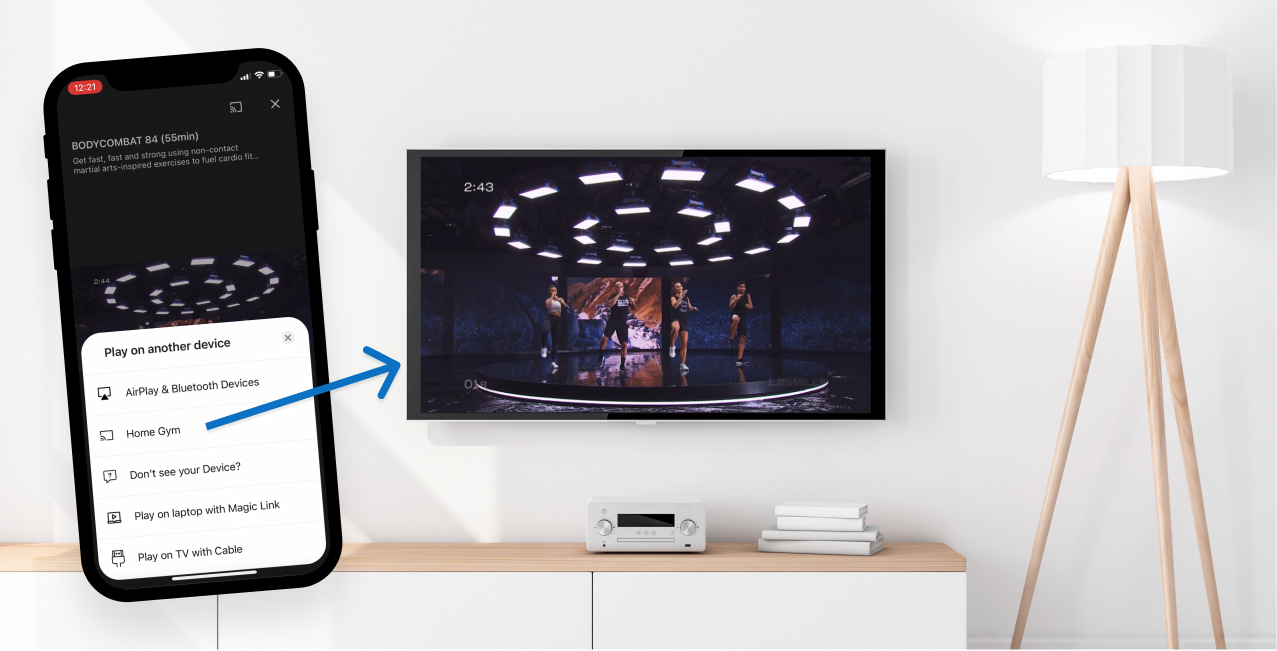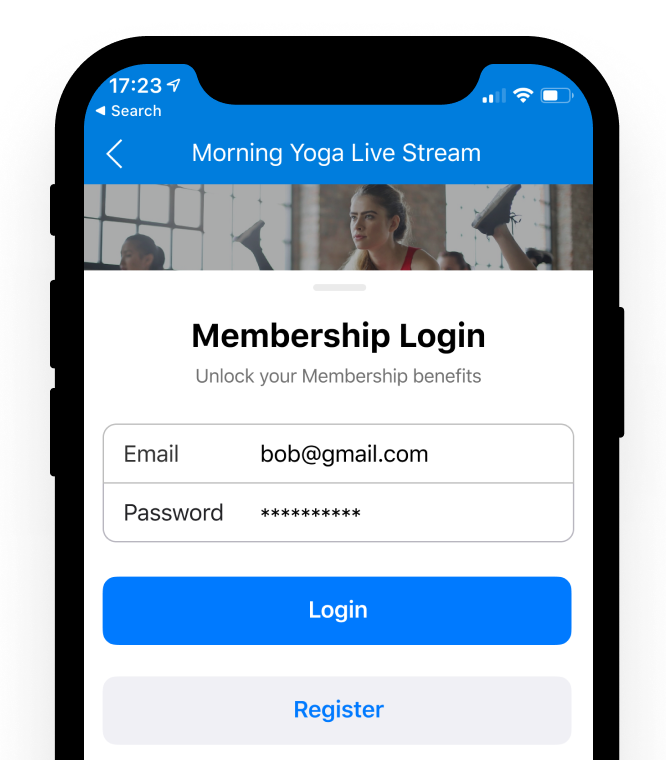 Monetise through in-app purchase

Additional subscription revenue
Digital Memberships Generate additional revenue with digital memberships.
In-app purchase is the highest conversion-rate way of charging for digital content in your app. One-click payment gives you the best conversion-rate and maximises your return on digital content.
Configurable, easy Digital subscriptions are paid directly into your bank account with full reporting. You're in control, including configuring pricing and free trial periods.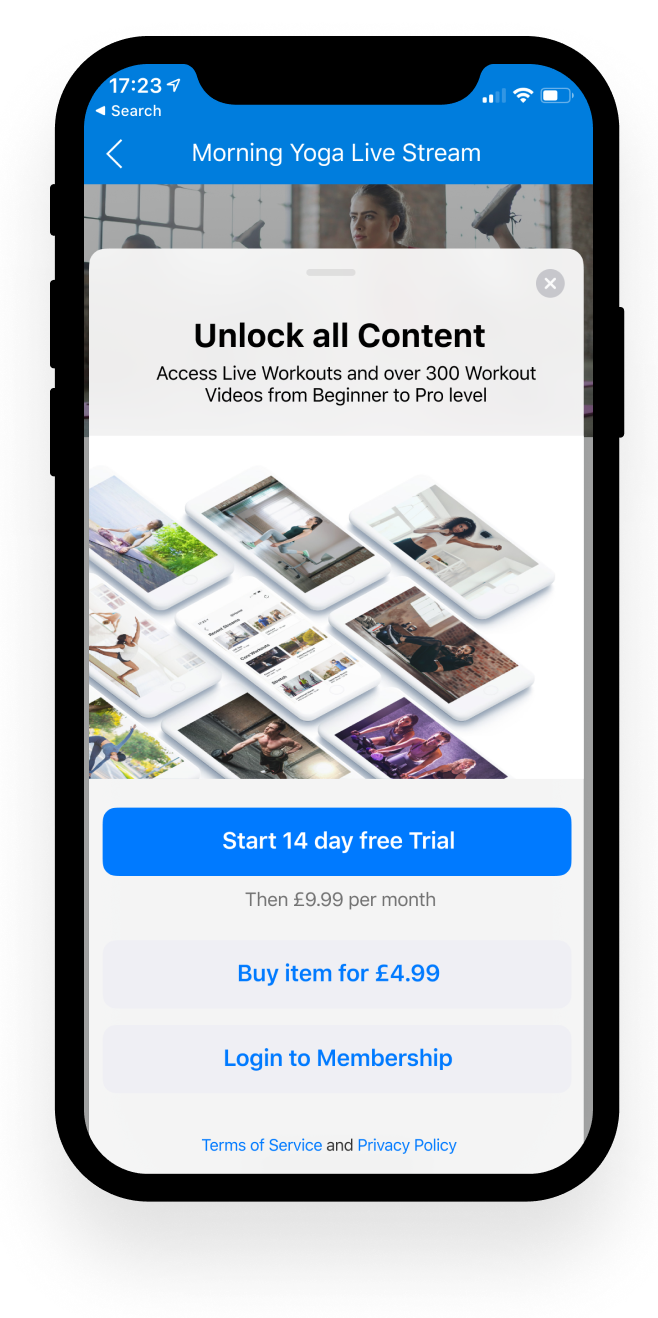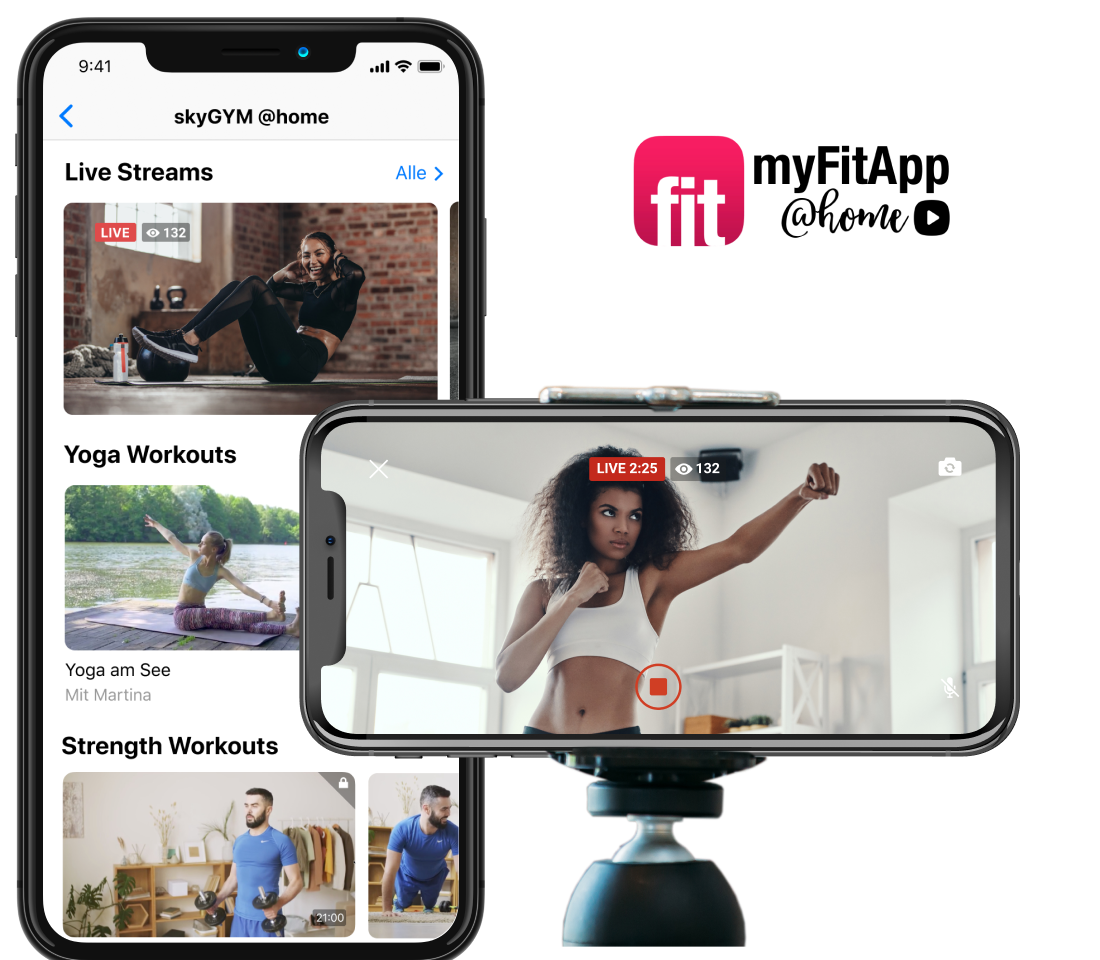 Including all benefits of myFitApp@home
As well as the LES MILLS Content option, myFitApp@home provides livestreaming, restreaming or on-demand playback of your recorded livestreams, all seamlessly integrated into your branded member app. Members don't have to wrestle with access codes, separate logins, or juggle URLs, everything is tightly integrated with an easy intuitive user interface they'll love.
Learn more about the benefits of myFitApp@home.
Built-in marketing
Promote your content with built-in marketing tools
Automated push messaging
In-app messages with direct click-through
Targeted campaigns with Marketing Automation
Banner Promotions on your homescreen
QR codes, NFC scans and app Deep-Links for direct click-through from social media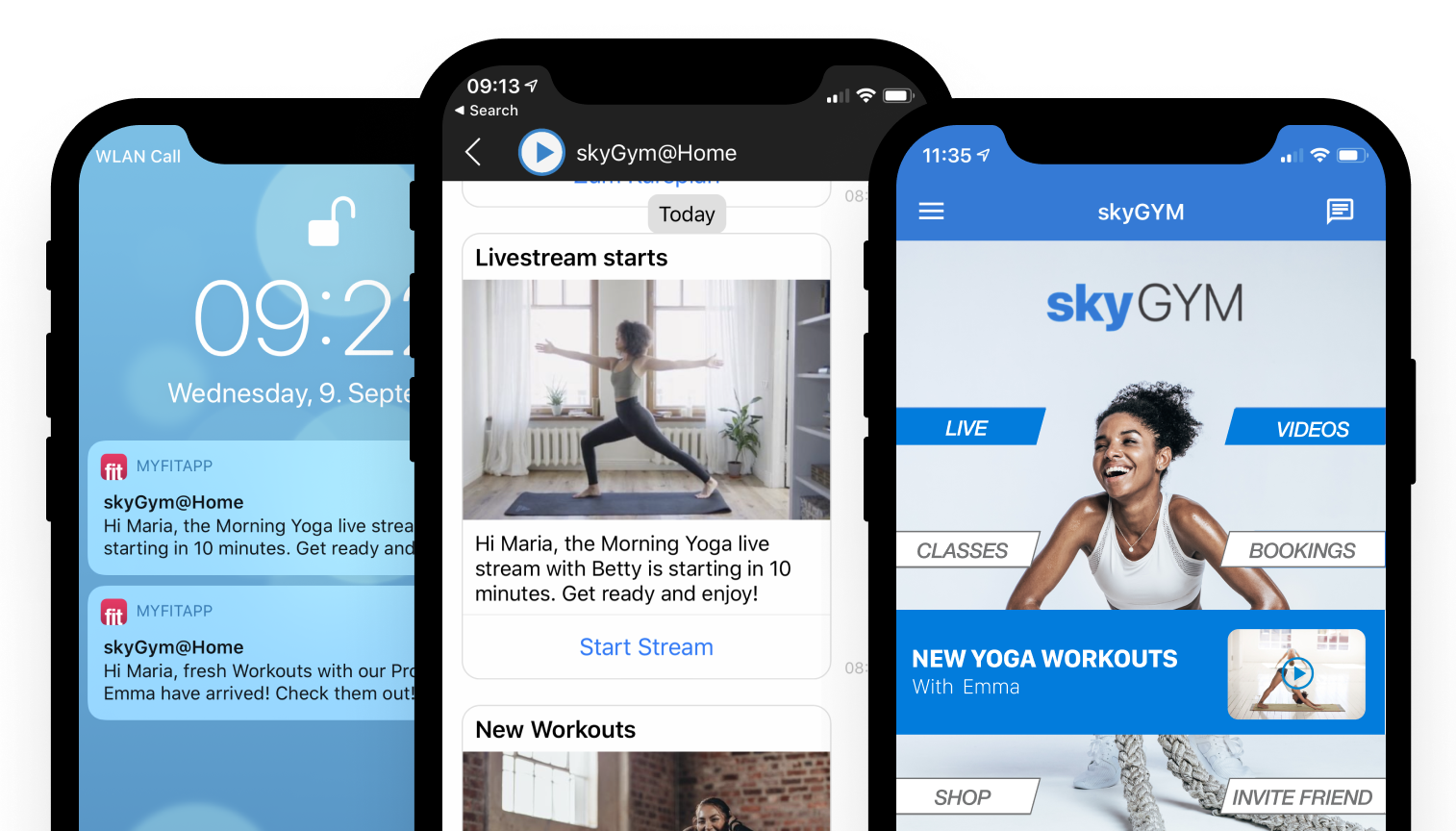 Add LES MILLS Content to your @home solution now
Expand your training space into your members' living room. It's really easy and your members will love it.
innovatise GmbH  ©  2011 – 2021