The Event Schedule 
The stress-free solution for managing all your schedules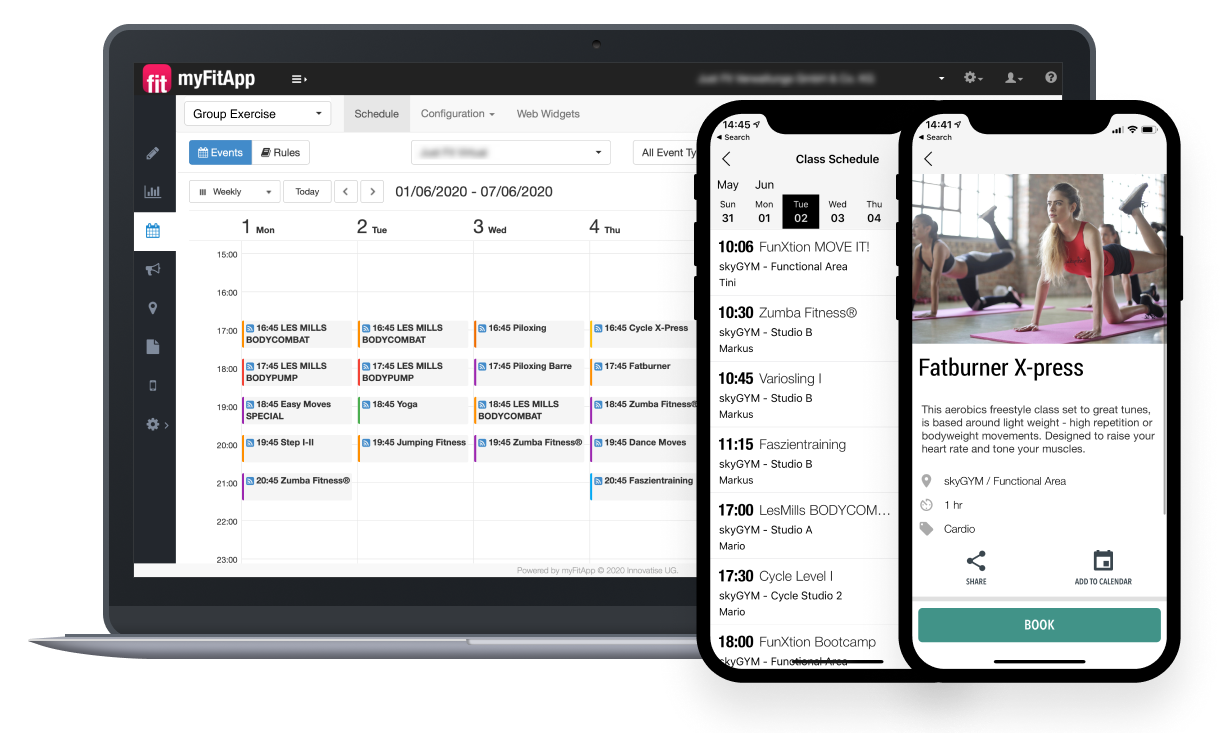 Class schedules.

 In gym or virtual

Live streams. Branded live streaming or YouTube, Vimeo, Zoom, Facebook, Instagram
PT slots.

Trainings-slots during COVID restrictions

Outdoor events.

Park runs, open water swims, fun days
Special events.

Open house, nutrition seminars, inductions

Spa times. 

Sauna, plunge pool…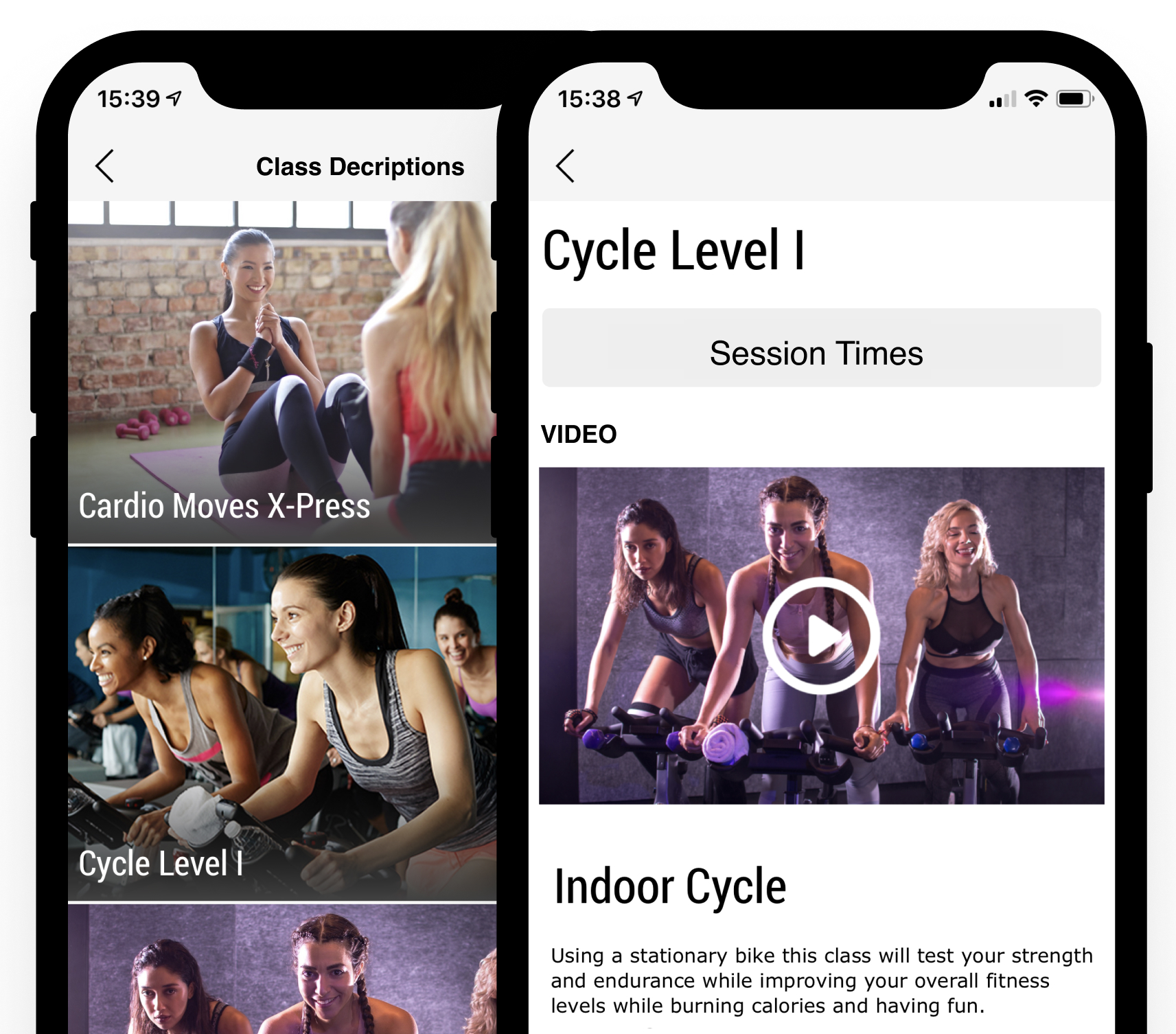 Show off your sessions
Engage and inform your members 
Let your members discover the great activities you're offering. Impress and entice them with pictures, videos, reviews and super-easy navigation. All delivered smoothly, quickly and easily in the palm of their hand.
Super easy schedule and event management
Scaleable for single gyms up to large chains
Managing your schedules is super easy in the web cockpit. Whether you are a single gym, a large chain or a franchise the Event Schedule has you covered. And with the sophisticated security functions, you can delegate administrative functions to individual teams or branches according to your needs.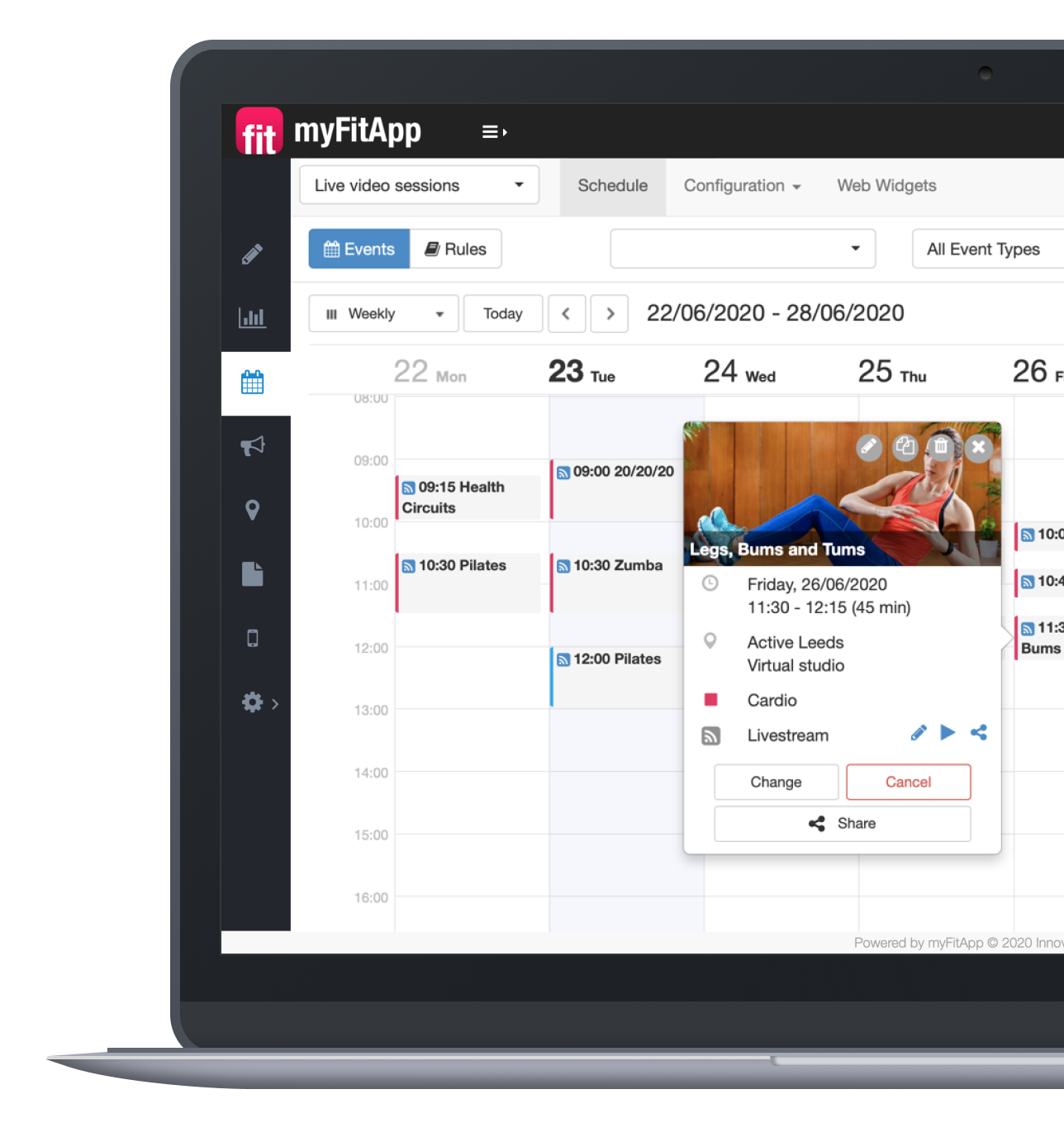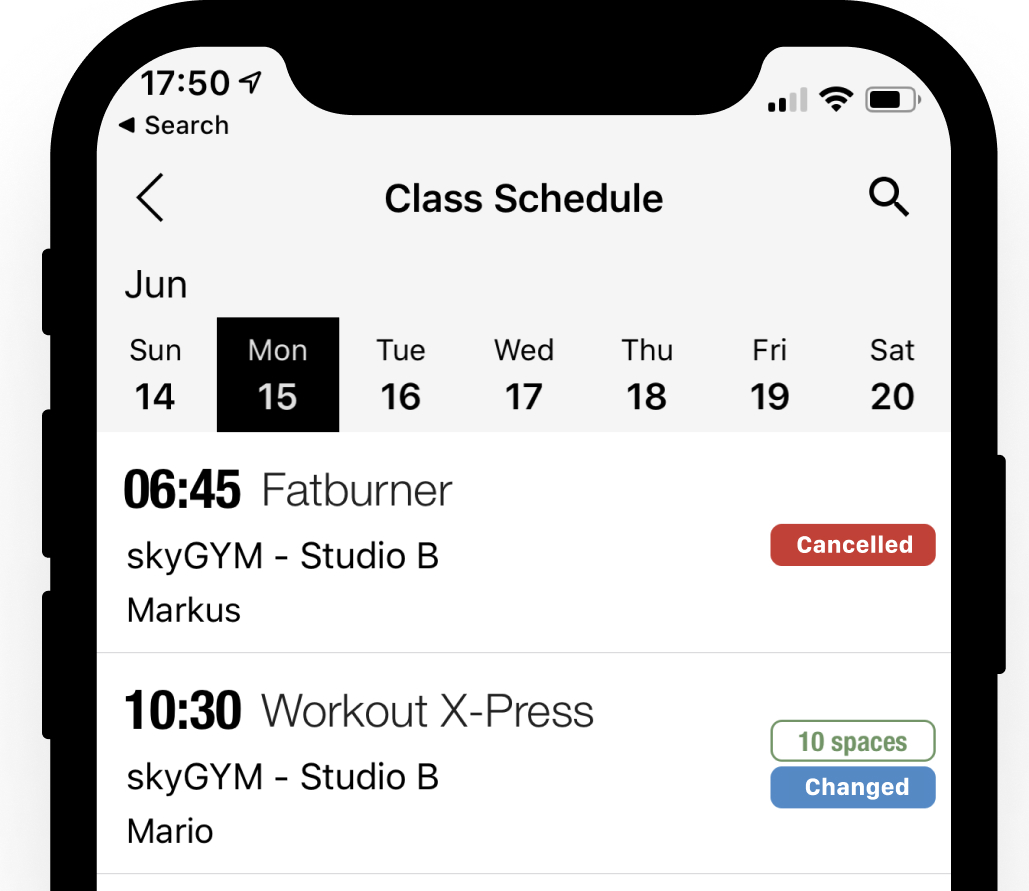 Exceptions are the rule
Trainer sick, substitutions, planned changes? No problem
With one click you can cancel an event, postpone it or change trainers. Your schedules are always up-to-date and members will realise this and trust them. And with automatic push notifications, you can alert them to changes at short notice.
Your recurring sessions are changing? No problem – you can "pre-program" every change. It will then be activated automatically at the right time.
Web and TV synchronisation
Display your schedule on your website and in-gym TVs, automatically, in real-time
Copy & paste web widget.

It's a 10 minute job – simply insert our script into your website to display your schedule. Works with any website – WordPress, Joomla, WIX, or other CMS.

Digital signage, in-gym TVs.

If you have internet-connected in-gym TVs you can display your schedule there too.

Open API.

You can use our API for special requirements.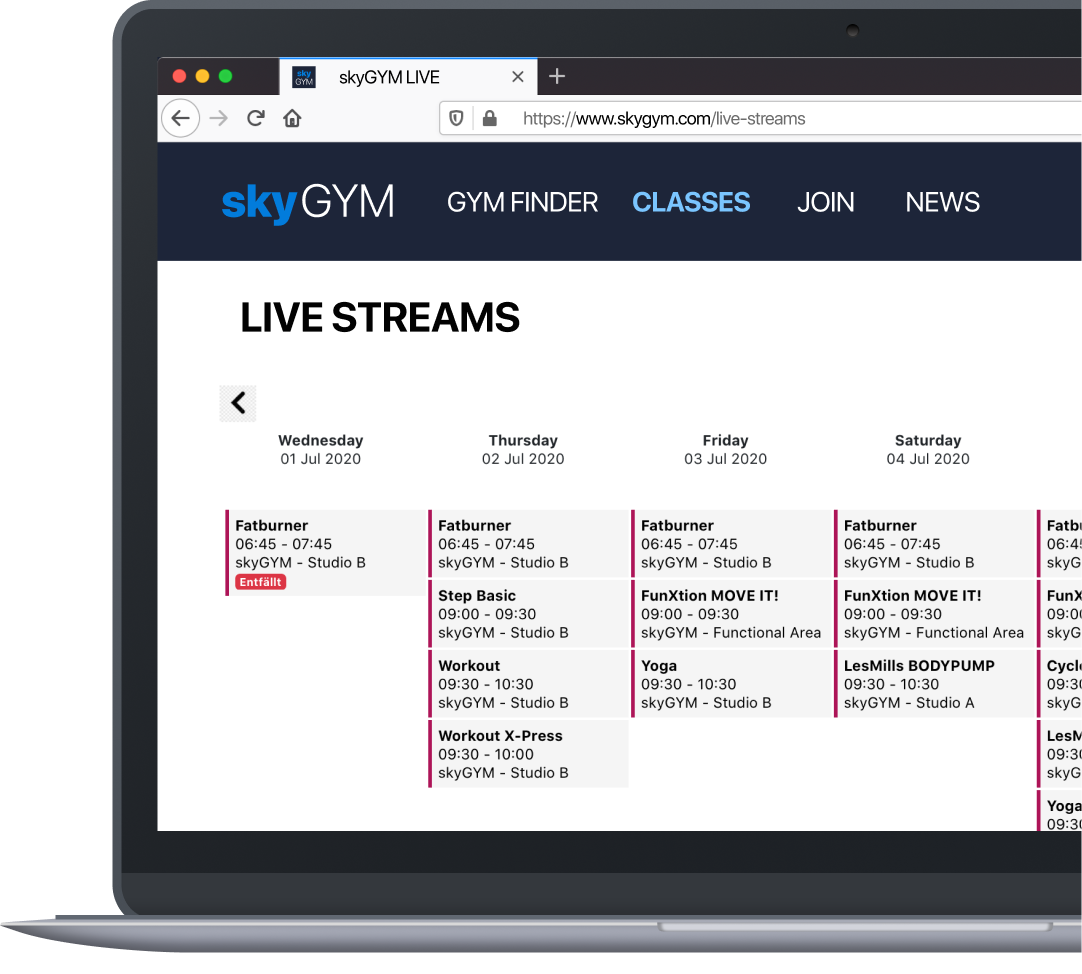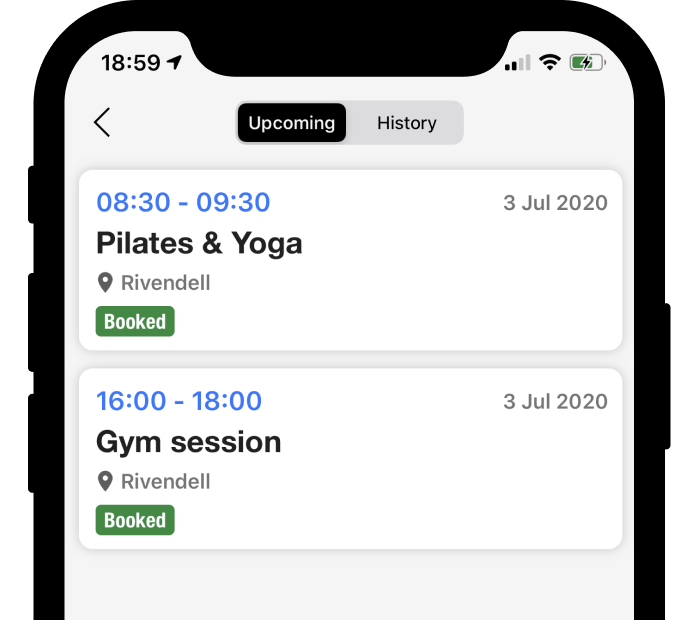 Booking
With built-in convenience and marketing
My Bookings
Members can easily manage their bookings and can easily cancel them if their plans change.
Share with friends
With one click, members can invite friends to the same session. More fun for them and more members for you!
Add to calendar
Everyone is busy – one click adds the class to their calendar so they don't forget about it.
Branded Live Streaming Option
Manage your streams in the same place as your classes
Manage physical and live streaming sessions in one place with the same staff. Manage hybrid classes – classes attended by members in the studio and at home at the same time. More info >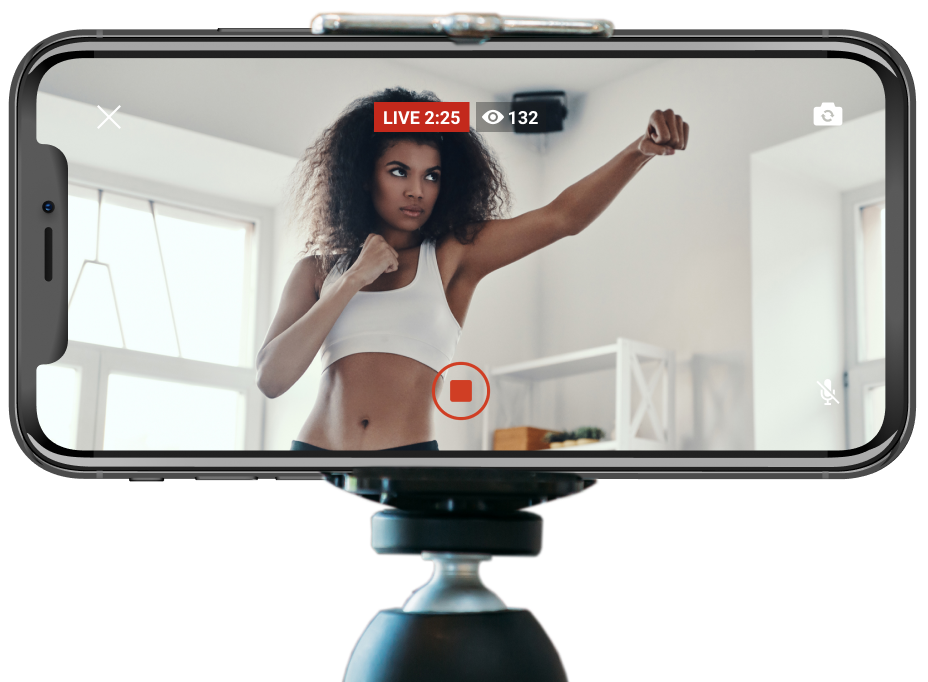 Start now with the event schedule
Start now so your members are always up-to-date with your schedule. It's so fast and easy, they'll love it!

innovatise GmbH  ©  2011 - 2023