The future of the fitness class is hybrid!
Is your studio already open? Have you considered hybrid fitness classes? If not, you should be! Whatever stage you're at, as you re-open after the pandemic, offering live streaming of limited capacity, in-person classes should be at the front of your minds.
What is a hybrid class?
A hybrid fitness class offers customers the option to join the class onsite or online. Onsite is within the four walls of your studio and online is through live streaming or on-demand content.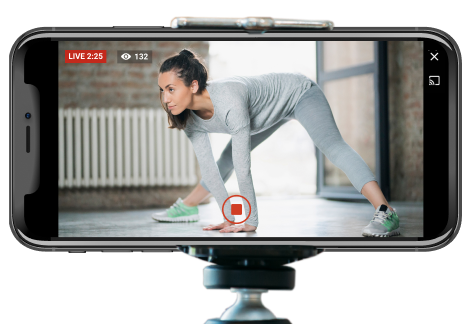 Why hybrid?
1. Your customers want it!
A recent survey* shows that 70% of customers want to continue using livestreams after reopening.
2. It's a simple way to adapt your business model to suit a digital first world
During the pandemic, the best chance of survival was a digital first fitness solution. As gyms and leisure centres are reopening, you still need to operate a business model that incorporates both services. Digital is the future!
3. It's an easy way to expand your offering to current customers
Since the pandemic, customers are looking for more flexibility with their gym memberships. With many enjoying training from the comfort of their own homes, hybrid classes are a simple and effective way to give your current members more choice.
As well as flexibility, a hybrid class keeps your trainers close to your members with a real, motivational, class room feeling.
4. Say goodbye to limited capacity classes
With booking systems still in place in most gyms and leisure centres, members can become frustrated by the limited capacity both in the gym and in the studio. Hybrid classes give members the opportunity to train at home whenever it suits them; from a yoga session during their lunch break to a HIIT workout in the evening, the options are endless!
5. You can acquire new customers
With a hybrid class offering you can acquire new members that are looking to workout online, or try a taster session.
6. Members can increase training frequency
Lots of members will find they can increase their training frequency with the flexibility of hybrid workouts. Remember, results = happy customers!
Go hybrid today!
What are you waiting for? Create your own digital, hybrid offering or take your current digital solution to the next level. You can do this with your own myFitApp@home solution. With myFitApp, it's really simple, and much more effective than any other video conferencing solution.
Get in touch today to transform your business and expand your digital offering.
*One club survey by ixmal to 2,500 customers.

innovatise GmbH  ©  2011 - 2023