We're delighted to announce our first customers in USA. With ClubReady, we have launched our eight clubs – TITLE Boxing, Pulse Performance, Vital Stretch, Box Union Studio, Power 4 Pilates, Twisted Cycle, VP Fitness and XGT Fitness. They have all launched their new Branded Member Apps powered by myFitApp and ClubReady, the leading provider of full-suite studio fitness and wellness club management software.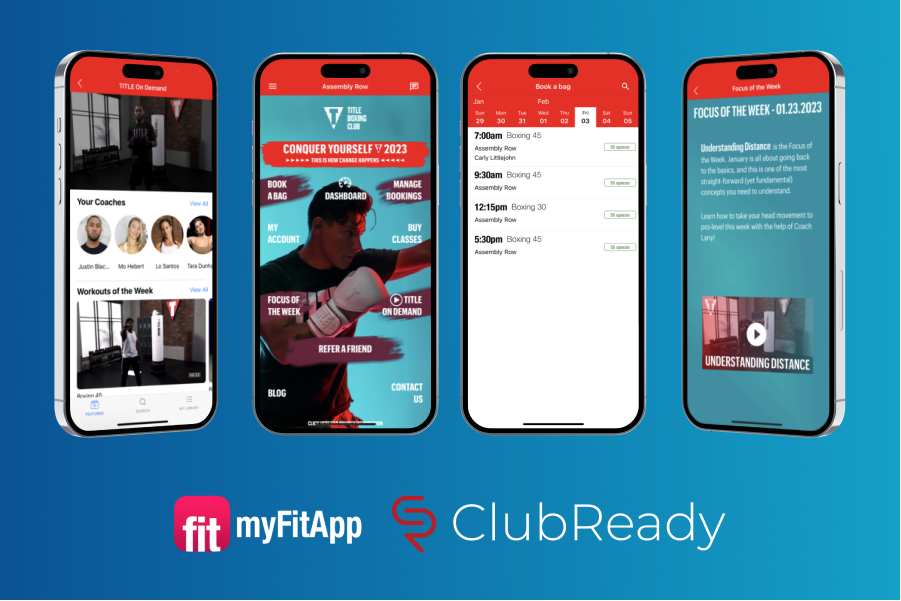 The combined power of software enables clubs to retain members, acquire new ones, and upsell existing members with a wide range of additional features. These include a digital fitness offering, myFitApp@home, where clubs can stream live and on-demand videos to their members at home, and Access Control where members can use their smartphone to enter their club.
"We're delighted to have our brand new App up and running with myFitApp / ClubReady. After a successful launch with our franchisees, members can now book a bag, access a whole host of workouts with TITLE On-Demand, refer their friends, know the class programming to expect in class through our focus of the week, access our challenges and so much more. The member dashboard, showing how many classes a user has attended increases motivation and will lead to rewards. The App is branded, customisable and flexible making it super easy for us to manage."

  

Todd Wadler, CEO, TITLE Boxing Club
The new App launches not only mark the first in the ClubReady partnership but also the first US customers for myFitApp, expanding on the 2,400+ sites using the platform across the world.
"It's great to see eight successful customers launch their new Apps and we are delighted to extend our customer base and provide the US fitness industry with a powerful solution that delivers an outstanding user experience & marketing platform. It's great to be working with world-renowned clubs like TITLE Boxing. The combination of myFitApp and ClubReady is game changing, and we look forward to transforming more clubs across the US."

  

Jonathan Cooke, Chief Commercial Officer, myFitApp

innovatise GmbH  ©  2011 - 2023