Ways to communicate important information this winter
The winter months can present all sorts of challenges for businesses. The weather can take a turn for the worst, and you need to be prepared for club closures, or changes to your timetable due to staff members not being able to travel. In this digital age, it's possible for you to communicate with members ahead of time so they can stay up to date, in real-time and plan accordingly.
Things to plan for
In our experience, some of the things you might need to think about planning ahead for, are:
Club closures due to weather – this could be because there are floods and your centre isn't safe to attend, or maybe you are short staffed due to team members not being able to travel to work.
Changes to timetable – you might have to make slight tweaks to timings or cancel a class, maybe it's outdoors and the weather conditions aren't safe, or your trainer isn't able to make it into the centre on time.
Festive opening hours – it's important to communicate these ahead of time, to ensure members can have a plan in place for their training schedule – plus, if you inform customers early, it will stop the flurry of members asking your reception staff the question!
Here are some tips on communicating with your customers…
1. Be proactive about communicating this winter
Take a proactive approach to communicating with your members. By using a promo screen, anyone that opens your app can see your message. From club closures to a change in opening times – you design the screen and message, all on brand plus it's quick and easy to do.
Here's an example from one of our customers who informed their customers of a booking systems downtime: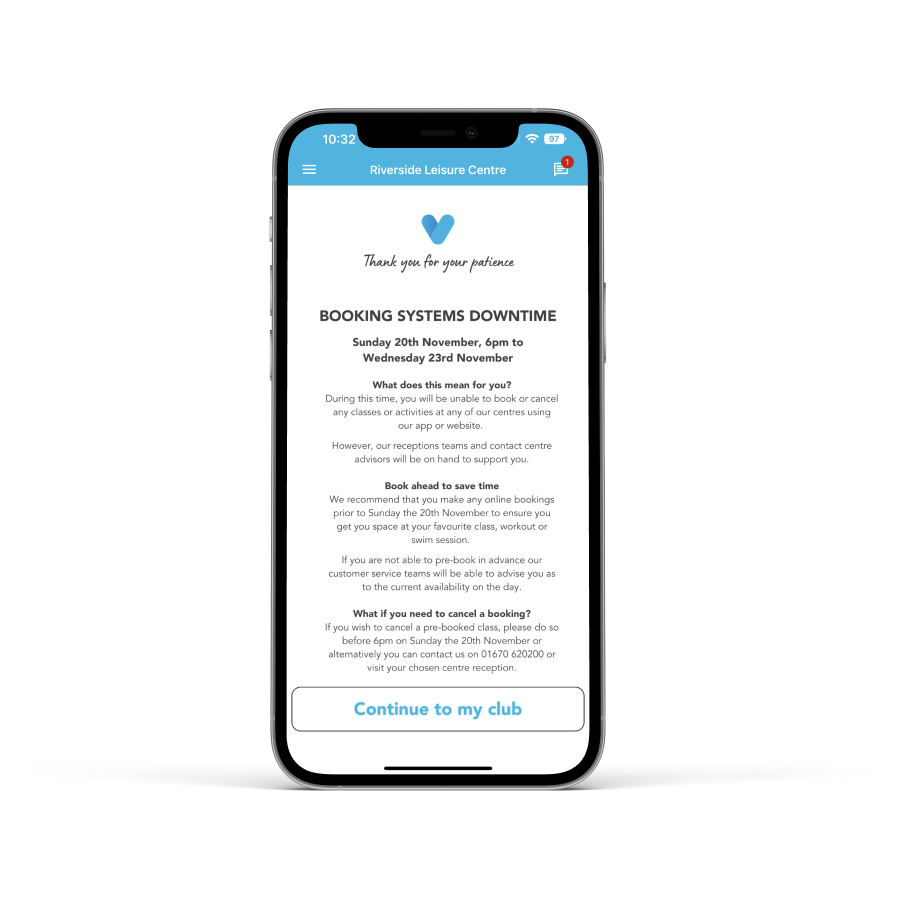 2. Use push notifications
For instant communication with a much higher open rate than email (around 20% vs 2%), look no further than push notifications. Your message will go straight to your customers' phone, and they can open and read all the information you need them to, in one click.
You can target the right audience, for example you can send a message to members booked on to a specific fitness class to let them know that their class has been cancelled, or send a message to anyone booked in to a tennis court that day, that the courts have been closed for safety.
3. Offer an alternative
If your members are unable to get into your centre, why not offer them an alternative, at home option? Digital fitness is an important extension of your membership, and in the winter months it becomes much more popular – not just in times of club closures but for customers to stay motivated and fit in their workouts around their busy, festive period, schedule.  
Here's an example from a customer who needed to close their club due to flooding but gave members the ability to not miss a training day!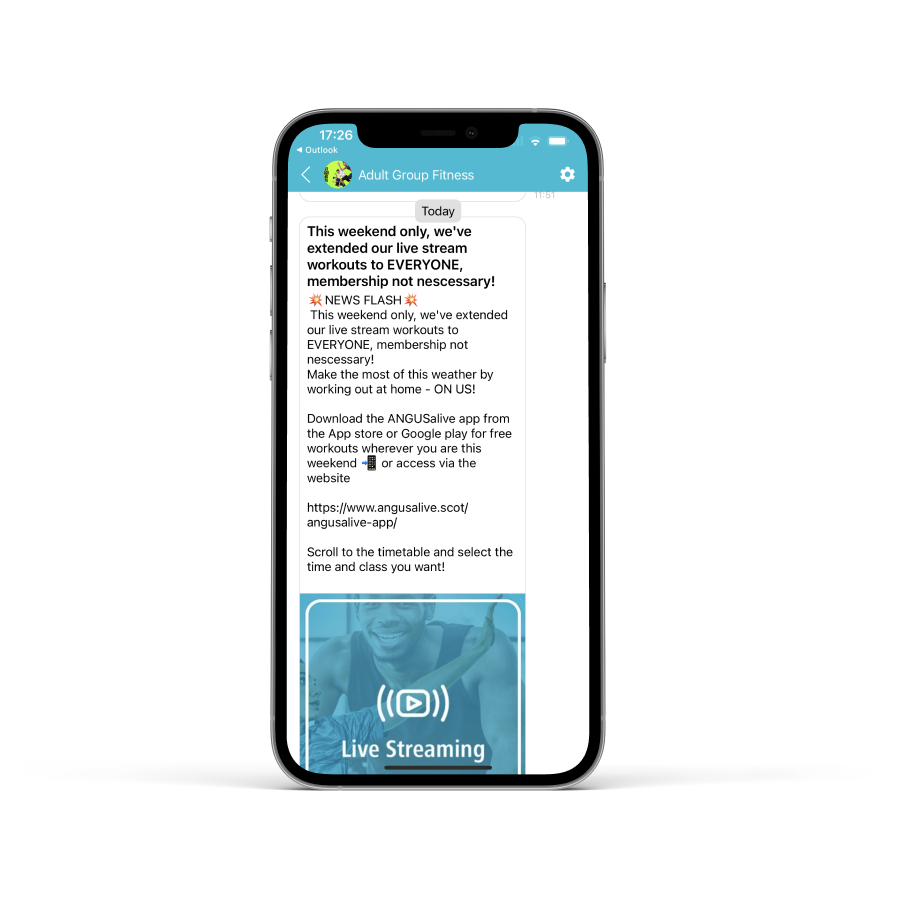 4. Plan where possible
Plan your communication ahead with scheduled messages. Maybe you're looking to communicate festive events or offers with your members, you can use all the above methods to do this too.
You could even keep an eye on weather forecasts and start preparing messages, in case of closures. It's best to be as prepared as possible so you can give your members notice of changes.
Winter is a busy time, with lots of adverse weather conditions and changes to your usual schedule due to the holiday seasons. The last thing you want to do is get caught off-guard when bad weather hits. Use your app to communicate important information so your members are always kept up to date.

innovatise GmbH  ©  2011 - 2023